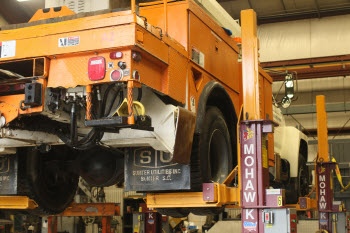 At Crile Consolidated, we're accustomed to working with a wide range of customers in many different capacities.
We can handle the small details or tackle the complete project depending on our customers' unique needs. By combining our diverse skill-set and ability to think outside of the box, our team can make some of the most challenging projects possible.
We value team input and frequently involve all of our departments when working on a project. By having all of our resources in one location and a team of individuals who are accustomed to working together, we're able to make projects with a broad spectrum of requirements feasible.
When it comes to pressing 10 tons or 500 tons, we have a variety of presses to handle many types of projects. Whether we are straightening hydraulic cylinder rods, down hole tooling or mud pump covers, we have the right tool for the job.
We have Mohawk wheel lifts with a combined lifting capacity of 108,000lbs. and human hoist creepers that make servicing over-the-road equipment safe and efficient. We also regularly troubleshoot and repair hydraulic systems on boom trucks, dump trucks, vacuum trucks, crane trucks and wreckers.